Fire Tube Boiler Brand Wish Kettle
Fire Tube Boiler Fabrication and Selling
Winsketel brand fire tube boiler, steam boiler machine made by Indonesian children, there are European standard materials used, namely: pipe fire tube brand Benteler, Oil Burner Riello Made Italy, water level control 177306 McDonnell & Miller 157S-M Hi Pressure Level Control, USA
Fire Tube Boilers are also often called Fire Tube Boilers. Fire Tube Boilers are usually used for relatively small to medium steam capacities with low to medium pressures saturated, that's because it is of the design characteristics of the Fire Tube Boiler itself, where the characteristics are to produce steam capacity and low pressure. Economical Fire Tube Boiler for steam speeds up to 1 to 12,000 kg/hour with pressures up to 18 kg/cm2.
Fire Tube Boiler in its operation uses light oil as fuel. Natural Gas.LNG, CNG or solid fuel, biomass, coal/coal. Most Fire tube boilers are factory assembled for all types of fuels.
How the Fire Tube Boiler works is quite easy to understand, namely because during the ignition process that occurs in the pipe, the heat generated from the ignition will be delivered directly into the boiler filled with water.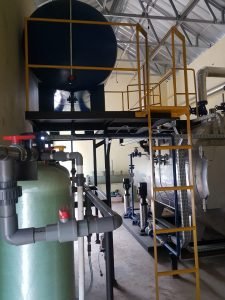 PT.

Indira Dwi Mitra

has a team of experts in

Fire Tube Boiler fabrication

services, therefore, we always provide the best solutions to meet customer needs in terms of:
Application
Beverage factory, Food processing industry, Textile factory, Printing and dyeing factory, Garment factory, Paper mill, Plywood factory, Poultry feed mill, Refinery, Rice mill, Noodle factory, Sugar mill, Wood processing industry, Carton factory, Cardboard factory, Dyeing mill, Leather factory, Packaging industry, Central heating, Greenhouse, Hospital, Rubber factory, Slaughterhouse, Soap factory, Bitumen plant, etc.
Single FuelBurner:

Gas Burner (Gas)
Light Oil Burners (Solar)

Heavy Oi Burner (Residue)

Dual FFuelBurner:

Gas-Light Oil Burner
Gas-Heavy Oil Burner

Furnace

Wood/wood pellet

Coal/ggasification

Coconut Shell

Palm shell
Advantage
Has a more compact and portable shape easy to an erection.
The initial investment in a fire tube boiler or fire tube boiler is very competitive.
Does not require special settings so that the installation process is easy and fast.
Saves space, because it does not require a large area for a saturated steam boiler.

The system control panel is easy to understand and operate

Boiler design construction that is easy when cleaning and overhauling
Lack of
Steam operating pressure is limited to low pressure of 18 bar (saturated).
When compared to a water tube boiler, the steam capacity is relatively small (13.5 TPH).
A lot of heat energy is wasted directly into the stack so the efficiency value is low at 89% with economizer & 95% preheater.
TECHNICAL DATASHEET
Features
Unit
IDM 300
IDM 500
IDM 1000
IDM 1500
IDM 2000
IDM 3000
IDM 5000
Steam production
Kg/h
300
500
1000
1500
2000
3000
5000
Design pressure
bar
12

12

12

12

12

12

12

Max working pressure

bar

10

10

10

10

10

10

10

TOTAL ELECTRIC POWER
Heavy fuel oil
KNo
4,3
5,3
9,6
12,9
16,0
24,0
32
Natural gas or diesel oil
KNo
2,3
2,3
4,6
5,9
7,0
12,0
18
FUEL CONSUMPTION AT 100% OF THE LOAD
Heavy fuel oil
Kg/h
22
36
72
110
145
218
363
Natural gas
Nm3/h
25
41
81.5
124.5
164
247
411
Diesel oil
kg/h
23
38
76
116
153
230
383
FUEL CALORIFIC POWER
Heavy fuel oil
Kcal/kg
9500
Natural gas
Kcal/Nm3
8400
Diesel oil
Kcal/kg
9000
Standard electric power data
380 V / 50 Hz / 3 phases with neutral
Auxiliaries voltage
220 V
THREE-PASS STEAM BOILER
TYPE: IDM – Smoke Tube Boiler. The pressure Body consists of a cylindrical boiler shell, the front, and rear shell end plates, the eccentric flame tube with an inside arranged 100% water-cooled rear flue gas reversing chamber, the smoke tubes of the second and third boiler flue pass, and equipment for all necessary cleaning and inspection openings. Examination of the welding seams by X-ray by the requirements of the regulation (Indonesia Technical Regulations) for Steam Boilers, Horizontal type, fully automatic and fully insulated, wet back construction, designed without fire bricks. Complete with: Valves, Instrumentation, Control Panel, Feed Water Pumps, and Burners.
BOILER TECHNICAL DATA
Design and License: Winsketel
Manufacturer  PT.Indira Dwi Mitra
Capacity     : 10.000 kg/h
net steam ( @ F.W 102 °C )
Heat Output  6520 kW
Heating Surface: 210 m2 Max.
Operation Pressure: 13 bar (g)
Test Pressure: 24.5 bar (g)
Steam Quality: Saturated
Design Code: Winsketel – Indonesia
Approval: DEPNAKER
Boiler Efficiency: 89 % at feed water 102°C, boiler load 100% Reversing Chamber: Wet-Back
Fuel: Natural Gas & Light Oil
Boiler Dimension & Weight
Length (L ges)                                           : 7600 mm
Height (B ges)                                          : 3805 mm
Width (B ges)                                            : 3500 mm
Weight Empty                                           :  24 tons
Operating Weight                                      :  42 tons
MOUNTING BOILER
Steel Structure, Platforms, and Ladder
Observation port in the rear of firebox and refractory-backed access covers for access to fire tubes
2 Lifting Lugs permanently attached to the top of
COMMON ACCESSORIES / INSTRUMENTATION BOILER
Main Steam Valve Quantity 1 Unit

Brand : KLINGER AUSTRIA
Type : KVN III (Piston Valve) PN 16
Water Inlet /Feeding Valve Quantity 1 Unit

Brand: ZETKAMA POLAND
Type: FIG.215 Globe Valve PN 16
Steam Check Valve Quantity 1 Unit

Brand: GESTRA GERMANY
Type: RK76 PN 16
Water Inlet /Feeding Check Valve Quantity 1 Unit
Brand : ZETKAMA POLAND
Steam Safety Valves Quantity 2 Units

Brand : VYC SPAIN
Type : AP PN 40
Venting Valve Quantity 1 Unit

Brand : KLINGER AUSTRIA
Type : KVN III (Piston Valve) PN 16
Water Level Gauge complete set Quantity 2 Units

Brand : KLINGER AUSTRIA
Type : R25  PN 16
Water Level Control Modulation Quantity 1 Unit

Brand : VYC SPAIN
Type : EAC-1
Water Level Safety Alarm (Cut Off) Quantity 1 Unit

Brand : VYC SPAIN
Type : RS.1 & ES-1
Intermittent Manual Blowdown Valve Quantity 1 Unit

Brand : ADCA PORTUGAL
Type : VPA 26
 
  PRESSURE CONTROL & INDICATOR
Pressure Switch Limiter Safety Quantity 1 Unit
Brand : CONDOR GERMANY
Type : MDR-F 15 Bar
Pressure Transmitter Quantity 1 Unit

Brand : SUCHY GERMANY
Type : SD 26
Pressure Indicator Gauge Quantity 1 Unit

Brand : SUCHY GERMANY
Type : MR 0- 16 Bar
Size : Dia. 6" / DN 150 mm
FEED WATER PUMP 
Two electric centrifugal feed water pumps for each boiler mounted on common base frame one in operation and one in stand-by.
Brand                         : Grundfoss CR Type Vertical Multistage
Capacity                     :11 m3/hr at 12 Barg
Max Pressure              : 25 bar
Accessories                : 4 unit Stop Valves , 2 unit Strainers , 2 unit check Valves and 2 Units Pressure gauge with needle valves
BURNER
 Brand Riello Burner Made Italy.
Specification :
Rating Capacity       : 1000 kW – 9800 kW
Power Supply          : 380 V, 3 Phase with neutral 60 Hz Control Voltage     : 220 V
Motor                         : 24 kW
GAS TRAIN
 Gas Filter
DN 100 Guiliani Anello (Watts industries) Italy High-Pressure Gauge
Range : 0 – 4 Bar High-Pressure c/w push button cock Suchy Germany body size: 4" Connection ½"
Slam Shut off Valve
Giuliani Anello (Watts industries) MB DN 100 Italy
Pressure Reducing Valve/regulator Valve Madas FRG/2 MC DN 100 Italy
Low-Pressure Gauges
Range : 0 – 500 mBar Low-Pressure c/w push button cock Suchy Germany body size: 4" Connection ½"
Safety relief Valve
DN 20 MS Giuliani Anello (Watts industries) Italy
Gas Compensator Joint
DN100 GAF400 Guiliani Anello (Watts industries) Italy anti-vibration.
ELECTRICAL CONTROL PANEL
1 Mounted Electric Switch Box: The type control panel suitable for floor mounting pre- wired control for all primary components.
Operating voltage 380 V, 3 Phase, Neutral, 50 Hz, Control voltage 220 V, single phase, 50 Hz. Control Panel is IP 54/55 class protection, Painting                                     RAL 7035 gray
Centralized control panel with the following items:
Control and Main voltage I, S
High pressure – manual reset A,I
Low pressure – automatic reset A, I
Low water level – automatic reset A, I
Low- low water level – manual reset A, I
Flame failure A,I, S
Thermal overload feed water pumps I,S
*)  A = Alarm               I = Indicator                S = Switch
OPTION : 
CHIMNEY 
Dimension                        : Dia. 900 mm x 15 m high
Painting                            : Heat Resistant Paint
Material                             : Mild Steel 6 mm
Accessories                      : Temperature Gauge and Gas analyzer hole Ladder and Platform
HOT WATER TANK COMPLETE WITH DEAERATOR
Dimension of feed water tank          :          ID 1850, L = 3650
Capacity (water Volume)                    :          10 M3
Material shell                                        :          A516 Gr. 70 , 6 mm Material / thickness thermal
isolation                                                 :          Rock wool / 100 mm #100
Material / thickness of cladding       :          Aluminium Sheet / 0.6 mm Deaerator Dome
Capacity Flow                                        :          14 M3/HR
Type                                                        :          Tray type
Material                                                 :           SS 304
Residual oxygen after deaeration     :          0.02 mg/ltr (ppm)
Turn down                                             :         1:4
Deaerated water temp.                        :          102      °C
Operating pressure                              :          1.208 bara/ 0.28 Barg Sinking time:
.  NWL to bottom of level glass         :          30        minutes
.  NWL to bottom of tank                   :          45        minutes
Design pressure                                    :          3.0       barg / full vacum
Consist of:
Steam inlet control system & water level control system
Pressure Relief valves and temperature indicator
Level gauge glass
Other valve for all nozzle 
AUTOMATIC WATER SOFTENER
 Type                                             : Automatic Diapraghm Arrange Solenoid Valve
Controller                                     : Siemens Microcontroller and Display
Max. Flow Rate                            : 14 m3/hr
Pressure Loss                               : 1.2 Bar
Feed Water Pressure                  : max 125 PSI
Resin Volume                               : 350 kg
Resin Tank                                    : Duplex PE tank
Brine tank                                      : 400 kg
Resin Kation                                 : Ion Exchange or eqv.
DOSING PUMP & CHEMICAL
Brand                                           : Chemtech 150 or equiv
Type: Diaphragm Pump
Max.Pump cap. at
max.back press                          : 100 GPD @ 60 PSI
Chemicals
Integra Australia (anti-scaling, oxygen scavenger & dispersant) Volume: 30 days of operation
TIME SCHEDULE
The boiler will be ready to deliver approx. 3 Months.
WARRANTY / GUARANTEE 
12 months effective from the date of start-up or 18 months from the date of goods arriving at the site (whichever date is earlier). The Guarantee means after-sales service consists of replacement spare parts and technicians for troubleshooting/emergency calls.
ENGINEERING DOCUMENT
Manufacturing Data Record (MDR)
Design Approval and boiler operation permit
Load plan for the foundation
Electrical diagram
Instruction manual regarding the operation and maintenance